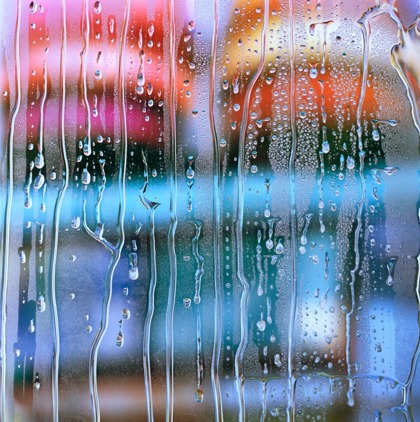 Rivulets of water or crystalline facets of ice glow on glass surfa­ces against a blurry background of outdoor places and architectural forms. Carol Inez Charney's Interior Landscapes could be described as photography becoming painting and vice versa. Spatially ambiguous, they open up a space of quiet contemplation encouraging rich associations about our inner and outer worlds. In their hypnotic charge the works invite the viewer to get lost in them and welcome the critical gaze that seeks beauty as well as intellect and complexity.

With degrees in both painting and photography, her approach is dominated by gesture, fluidity, color blending as well as by the tension between accident and intent, linking back to modernist, abstract painting. Photographical basics such as the capturing of fleeting constellations, focal points, contrasts and the blurring of fiction and reality are also central to her compositions. In this Charney comments on the mutual influence photography and painting have had on each other throughout time. Painters such as Anselm Kiefer and Al Held and photographers as different as Uta Barth, Sarah Charlesworth, and Josef Sudek are to be found on her list of influential figures, while the works easily compete with contemporary colleagues such as Edward Burtynsky or Richard Misrach.

Charney started working with the Interior Landscapes back in 2002 in Minnesota as, looking through a condensation-streaked window out to a frozen landscape, she realized she "could use the camera to reinterpret the world around me into a form akin to that of painting", which changed her way of seeing landscape. Today her portfolio mirrors her ambitious engagement with the subject matter and a gradual change in technique— continuously exploring a variety of moods, temperatures and degrees of abstraction. Some works are calm and playful; others are characterized by brighter colors with an urban, vibrant tone.


Instead of entirely manipulating her works with digital software, she operates with real physical space, natural light and moving water and mixes digital and analog technology in a complicated multi-step process. This involves digital photography, color manipulations, a medium-format Hasselblad film camera and chromogenic printing processes. The architectural images are then re-shot back onto film through water-coated glass to obscure the motif's provenance and to include the crisp quality of analog film and the sometimes lucky results obtained in a darkroom.

Charney's work has been exhibited widely in the US and is represented in several renowned corporate collections - for example by AT&T, Microsoft and Morgan Stanley - as well as in private and university collections.


I accordance with professional photography edition sizing standards, the photographic work is produced in limited editions which vary according to size between 5 and 30 prints per edition.

Most work is available in sizes
150x150 cm (edition of 8)
122x122 cm (edition of 10 or 15)
102x102cm (edition of 10 or 15)
76x76 cm (edition of 15)
51x51 cm (edition of 15)
36x36 cm (edition of 30)

Some early work only exists in small sizes of 51 and 36 cm, while a 36 cm version is no longer produced for newer work.

The number of total prints of one work is often not higher than 88, newest work not more than 42 or 58 prints. Earlier work that exists in all listed sizes exists in a maximum of 98 prints in total.

Each work is issued with an edition label on the back, signed by the artist.

Please contact us for detailed info on each work.
Download current text and CV
Further Works To Be Ordered As Latest Number SolD